Our board has a multitude of ways in which you can input an audio signal to mix live on air. The most commonly used input methods are: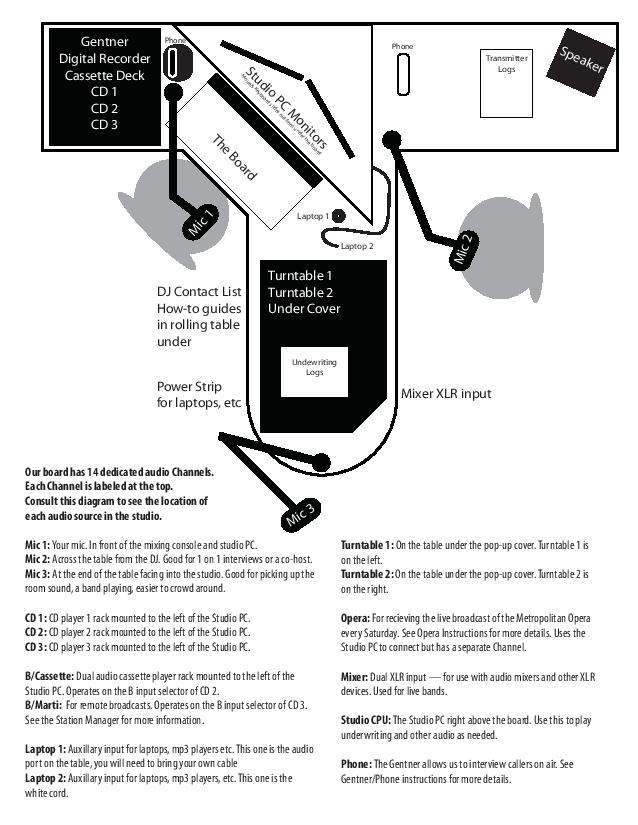 The Studio PC (Studio CPU)
The three studio microphones (Mic 1, Mic 2, and Mic 3)
and
The three rack-mounted CD players (CD 1, CD 2, and CD 3)
The two turntables (Turntable 1 and Turntable 2)
The two auxiliary line-in connectors (Laptop 1 and Laptop 2)
In addition to these there are also other input methods for specialty use which include the Tape Cassette Decks (B/Cassette), Remote Broadcast capabilities if the hardware is available (B/Marti), a Comrex for the live broadcast feed of the Metropolitan Opera (Opera), a Stereo XLR input for use with live bands (mixer), and the Gentner for putting a caller on the station's 618-529-5900 line live on the air.
The best way to learn is by watching and doing so you should train in person with the Station Manager or a Peer Mentor who likes to use your prefered input method. DJs who play lots of records will know all the quirks of the record players. DJs who use software on a laptop or a mixing device can give better advice about running a show that way. DJs who use CDs can help you understand all of the special features in the CD player menus. If you want to use a specialty input method you can consult the instructions for that device or ask the Station Manager. Never try to use an input live on air unless you are confident that you know how it works.
Because your training will be hands-on this portion of the guide is more oriented toward being a checklist for the Station Manager or Peer Mentor to use to make sure all of the important skills, quirks, and settings for each mode are covered and explained in their training rather than listing all of the information in depth. If you don't understand something, ask about it. If you want to learn how to use a piece of equipment ask the Station Manager or a Peer Mentor and they will be happy to help explain it. If you want to learn even more about a device the technical manuals may be available.
CD Player Key Skills
Basic operation

Opening the tray and inserting and removing a CD
Buttons
Reading the display

Cueing a song
Play Mode:
Time Mode:
Repeat:
Advanced features: End Monitor, Program Mode, A-B, Pitch Adjustment
Using MP3 CDs
Using multiple CD players to switch between different CDs
Anything else the trainer thinks is good to know
Turntable Key Skills
Basic operation:

Buttons
Tone Arm
Cartridge / Needle

Previewing a song in Cue Mode
Cuing a up a song
Turntable and record care
Anything else the trainer thinks is good to know
Line-in / Laptop / Bring Your Own Device
Basics

Laptop 1: Bring your own aux/adapter cord or use a device with a cord
Laptop 2: 1/8" headphone cord that plugs directly into your device

Volume management

System Volume
Software Volume

Streaming Music / Youtube Warnings

Can stop in the middle of playback if a song doesn't load
Poor audio quality
May contain ads (in violation of our non-profit status)
May Autoplay something unintended (explicit songs, unrelated content, etc)
Live recordings of clean song may contain explicit content said to the audience

Silence other programs that might make sound (Message Notifications, System Alerts)
Anything else the trainer thinks is good to know
Studio PC
Computer Basics

Plugging in a USB drive
Don't save music to the Studio PC (Pre-produced show intros/outros, small sound bites/sound effects you use frequently are OK)
VLC / Windows Media Player
iTunes is for Underwriting Only

Overnight Tunes
Underwriting
Volume management

System Volume
Software Volume

Streaming Music / Youtube Warnings

Music can stop in the middle of playback if a song doesn't load
Poor audio quality
May contain ads (in violation of our non-profit status)
May Autoplay something unintended (explicit songs, unrelated content, etc)
Live / alternate recordings of normally clean song may contain explicit content said to the audience

Be careful of programs that might make sound (Message Notifications, System Alerts)
Logging Confessor entries live
wdbx.org and WDBX Community Calendar
This is a public computer

Always log out of websites (Facebook, email, neopets, etc.)
Don't install programs without permission
Don't download copyrighted content illegally or visit sketchy sites