Kokorokon – Anime Convention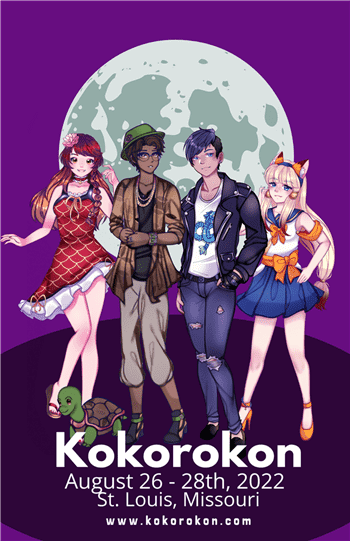 Map Unavailable
Date/Time
Date(s) - 08/26/2022 - 08/28/2022
1:00 pm - 5:00 pm
Location
Marriott Sheraton Westport Chalet
Categories
Kokorokon Anime Convention in St. Louis. The event will take place August 26-28th, 2022 and be held at the Marriott Sheraton Westport Chalet Hotel.
Koko will feature some familiar mainstays such as concerts including the incomparable Harp Twins, interactive panels, as well as the Masquerade Ball. In addition, for those who crave competition and cooperation, pick up your badge and pick a team to battle with or against your friends in various games throughout the weekend! If that's not your fancy, check out our game room featuring various VR setups, PC Gaming, and console gaming. For those excited about anime goods and wanting to expand their cosplaying wares, there will also be a variety of exhibitors present to satisfy shoppers looking for anime goods or searching for that unique art piece as well as a con swap in which you can bring your own merchandise for sale and trade.
Kokorokon guest lineup is scheduled to include: Molly Searcy, Sarah Wiedenheft, Sailorstarmony, Kirameki Magic, Divvitus, PrismHeart, the Harp Twins, Convention Foam Fighting, The Adventure Group, and SakuraBunny Maid Cafe. Not to forget our guest DJs – Hazmatiq for the weeknight event: Symphony of Dreams.
Full schedule will be available online right before the start of the event. Details on admission pricing for the three-day event and the full schedule can be found at Kokorokon.com. Be sure to get Summer's hottest ticket for the best anime convention in St. Louis happening August 26-28th, 2022!