Shawnee Showdown: Keep the Forest Standing Film Screening & Panel Discussion Wed March 29 6PM at SIU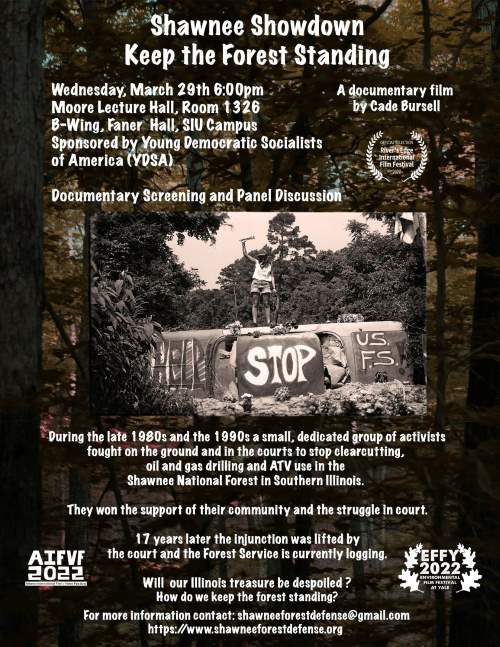 Map Unavailable
Date/Time
Date(s) - 03/29/2023
6:00 pm - 8:00 pm
Categories
Shawnee Showdown: Keep the Forest Standing free film screening at SIU on Wednesday March 29th from 6-8 PM.
The film recalls past conflicts and environmental victories in the Shawnee and underscores the need for climate change solutions
A free screening of the documentary film Shawnee Showdown- Keep the Forest Standing, by SIUC School of Arts and Media professor emeritus Cade Bursell, will be held at 6PM Wednesday, March 29 at Moore Auditorium, Room 1326, Faner Hall, Southern Illinois University.
Screened at the River's Edge International Film Festival, Environmental Film Festival at Yale and the Athens International Film and Video Festival, Shawnee Showdown retraces the battle over commercial logging within the Shawnee National Forest for more than three decades and raises concerns over climate change and present public land use.
Following the screening, there will be a panel discussion and Q&A with environmental activists who participated in the protests and who remain active to this day. Updates on current & proposed logging projects on the Shawnee National Forest, happening now at Kinkaid Lake, as well as those proposed or ongoing in Alexander, Hardin, Johnson, and Pope counties
The activists are once again asking tough questions about public land use. Should our public land be degraded to generate commercial profit for the few? With the effects of climate change intensifying and the knowledge that mature forests sequester more carbon, why not keep the Shawnee National Forest and other Forest Service lands standing as regional carbon sinks? How can the forest remain a healthy habitat for all species? How do we keep the forest standing?
The screening is sponsored by Young Democratic Socialists of America (YDSA). To view the film trailer visit https://www.shawneeforestdefense.org or email shawneeforestdefense@gmail.com.