SAVE THE DEMOCRACY TOUR 2022 – 39 COUNTIES film screening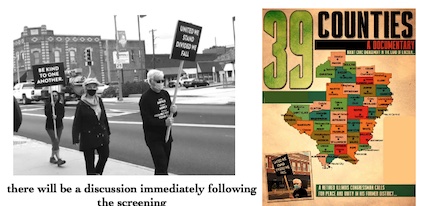 Map Unavailable
Date/Time
Date(s) - 09/22/2022
7:00 pm - 8:30 pm
Location
Carbondale Unitarian Fellowship
Categories
For Immediate Release 9/6/22
2022 –
FILM SCREENING: Thursday September 22, at 7pm – 8:30.
At: Carbondale Unitarian Fellowship /
'39COUNTIES' documentary film is an inspiring grassroots journey of real-life activism, without guns or police, politics, or organized groups. It is a compelling story about hope and good will right here in Southern Illinois.
In the fall of 2020, in the middle of a pandemic, former US Illinois Congressman Glenn Poshard organized 39 peaceful, non-violent marches in all the Illinois counties he represented. Ordinary folks, with no agenda other than having had enough of hate and division, came together in their rural towns to participate in non-violent, peaceful civic engagement; reminding us that the strength of a democracy is in its citizenry.
This is a must-see film. While the country experiences monumental changes that reflect a deep division, it is important that we keep a watchful eye on the sanctity of our Democracy. Protecting our democracy is the key to the restoration of our humanity.
NEW POLLING SHOWS 'THREATS TO DEMOCRACY' AS THE TOP VOTER CONCERN, OVERTAKING ECONOMIC ISSUES
https://www.youtube.com/watch?v=XhkRGV_Lo9E – 2-minute film trailer
For more information Contact Sandra Pfeifer feedroomfilms@gmail.com/ 618.695.3644