Saluki Con returns to SIU April 22-23
Map Unavailable
Date/Time
Date(s) - 04/22/2023 - 04/23/2023
10:00 am - 5:00 pm
Location
SIU Student Center Ballrooms
Categories
Saluki Con, a two-day extravaganza packed with gaming, special guest stars, virtual reality, workshops, contests and so much more returns to Southern Illinois University Carbondale April 22-23. There's fun for all ages at the fifth edition of the popular event.
"We have a great celebrity and regional guest lineup, interactive virtual reality and tournaments for chess, Catan, and Dungeons and Dragons, as well as other gaming," said Nathan Bonner, Saluki Con co-chair and SIU graphic designer. "The 2023 Saluki Con also includes cool demonstrations, workshops, panels and countless other things to do, including cosplay and other contests. There's even a special children's area. There truly is something for absolutely everyone."
Get tickets now
The comics/science-fiction/fantasy/pop culture convention runs from 10 a.m. to 5 p.m. each day at the SIU Student Center, but some of the gaming actually starts from 4 to 9 p.m. Friday, April 21, for SIU students and people who purchase Saluki Con tickets in advance.
Tickets are on sale now at salukicon.siu.edu. The cost is $20 for a weekend pass or $15 for a one-day ticket; handling fees apply. Children ages 6-13, high school and community college student weekend passes are $10 with daily tickets for $5. All SIU students and children ages 5 and younger get free admission. SIU faculty and staff can purchase a pass for half price using the promotion code STAFF23.
Celebrity lineup        
A diverse group of celebrity guests will appear, including Jason Spisak, Justin Sargent, Matt Kindt, Olivia Hack, Kenny Sills and Brad Moore.
Spisak's voice-over career spans nearly three decades. He's created the voices of The Joker in "Batman Hush." Lux Bonteri and Cristo in "Star Wars: Clone Wars," Silco in "Arcane," the Lego Joker in two Warner Brothers animated movies and much more. He has also brought to life characters in numerous popular video games.
Sargent is best known as Peter Parker in Broadway's "Turn off the Dark" which features music by Bono and The Edge as well as Drew in the hit Broadway musical "Rock of Ages." He was in the original Broadway cast of "Bonnie and Clyde" and has appeared in numerous films and television shows, including "Jesus Christ Superstar: Live" and "Law & Order: SVU." He has performed with Alice Cooper, Air Supply, John Legend, Sara Bareilles, Dee Snider and others.
Known as the voice of Rhonda Wellington Lloyd in Nickelodeon's "Hey Arnold!", Hack also portrayed Cindy Brady in the 1990s "Brady Bunch" films and has appeared in "Star Trek Generations," "Party of Five," Gilmore Girls and other productions in a career that began in commercials at the age of 8 months.
The award-winning author of "Tattoo: A Beautiful Sin" and "Tattoo: The Soul Reaper," Sills is a graduate of Southeast Missouri State University and has enjoyed a life of travel and exploration. A fifth-degree black belt, he owns Ohana Martial Arts studio and enjoys teaching and working with people with special needs.
A New York Times bestselling author, Kindt has also won the Harvey Award for his writing and comic/graphic novel artwork. His projects include "MIND MGMT," "BRZRKR" (with Kanu Reeves), "Bang!," "Revolver," "Super Spy" and more, and he's worked with Dark Horse Comics' "Flux House."
Launching his career in the world of horror comics, Moore has carved out an influential role in Death Metal Art as a psychedelic surrealist painter, draftsman and comic book creator. His work has been published worldwide more than 600 times and his album cover for Worm's "Foreverglade" was voted No. 11 among the top 30 metal albums covers in 2021. He's even been the invited guest at H.R. Giger's Switzerland castle.
There will be numerous regional and local special guests in attendance as well, along with local groups including the 501st Stormtrooper Legion, Mandalorian Clan, Southern Illinois Ghostbusters and the Heroes4Kids charity.
Games for all and more fun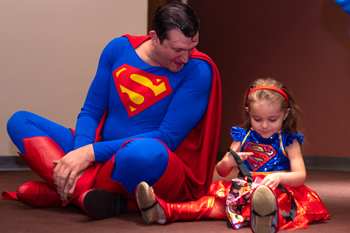 Several esports tournaments will have open signups for anyone who wants to play and prizes awarded for first and second place. Grab your costumes and join in the Cosplay Contest at 2 p.m. on Sunday with prizes awarded in four different categories for adults and teens/children. No hoodies are allowed this year.
Visitors can also explore game playing in the virtual reality room, enjoy tabletop game demonstrations and tournaments and check out games from the game library at no cost.
Another special game featured is the Play to Win where every person can check out a game, play and get a ticket for a chance to win that game during a random drawing.
Dozens of artists, authors, crafters and more will be offering 3D printed miniatures, comics, toys, games, anime merchandise and other wares. Photo opportunities will abound as well, including the chance to pose in a replica of the Green Throne from "Game of Thrones."
Anime Kai, SIU's anime student organization, will be screening and discussing anime movies and television series in the Old Main Room, and visitors are welcome to join them. The Medieval Combat Club will be having demonstrations throughout the weekend, and there will be panels, workshops and other activities. The Criminology and Criminal Justice Program will host an interactive virtual reality system in the Roman Room on Saturday. On Sunday, a podcast for Neophyte Chronicles will be featured, and the video game "Royal Blood," created by an SIU graduate student  John-Michael Veach will be available for play on the vendor floor.
A limited number of T-shirts and hoodies will be available for the fifth edition of the event, which premiered in 2017 as Eclipse Con and will return to that name in 2024 when the total eclipse makes a repeat visit to SIU in April. Pre-order online and pick up at the event.
For more information about Saluki Con 23, including the complete schedule of events and ticket sales, visit the website. Follow Saluki Con on Facebook, email salukicon@siu.edu or call 618-453-5714 to learn more.