Hummingbird Day at War Bluff Valley Wildlife Sanctuary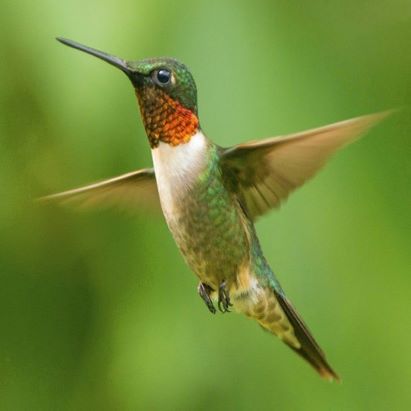 Map Unavailable
Date/Time
Date(s) - 07/24/2021
9:00 am - 12:00 pm
Categories
Hummingbird Day Saturday July 24 9 AM – Noon at War Bluff Valley Wildlife Sanctuary
Everyone is invited to Hummingbird Day at War Bluff Valley Wildlife Sanctuary, sponsored by Shawnee Chapter Illinois Audubon Society. This event provides an opportunity to observe these fascinating little birds and learn more about their amazing lives. Hummingbird Day will take place 5 miles north of Golconda at War Bluff Valley Wildlife Sanctuary, 228 Bushwack Rd, Golconda, IL from 9 AM to noon on Saturday July 24th.
Hummingbirds will be at the feeders, so come ready to relax and watch these tiny creatures. A presentation on Hummingbirds – From Flowers to Feeders and Beyond will take place throughout the morning. Children's activities will be on-going as well. Information on hummingbirds will be on hand. Shawnee Chapter will have hummingbird merchandise, such as t-shirts, garden signs, feeders and accessories available. Refreshments will be served.
The event officially ends at noon, but everyone is invited to stay as long as they like and enjoy watching the hummingbirds at the feeders. Come enjoy the trails and explore the Sanctuary.
The festival will be held rain or shine. Bring your children and friends, but we ask that you leave your dogs at home.
Shawnee Chapter Annual Meeting and elections will be held at 1PM. Everyone is welcome to stay and attend.
Directions to the Sanctuary from Golconda: Take Rt 146 north of Golconda 3.5 miles, turn left onto Bushwack Rd (look for brown binocular sign) Follow Bushwack Rd about 2.2 miles to Sanctuary entrance on the right – watch for signs. Bushwack Rd turns into a gravel road & crosses a low water ford – don't give up – just keep going and you'll get there!
Hummingbird Day is free and open to the public—everyone is welcome! For more information, call or text 618-534-7870, or email featherfoil1@gmail.com
Shawnee Chapter is the local chapter of the Illinois Audubon Society, and serves as stewards of War Bluff Valley Wildlife Sanctuary. We focus on issues of environmental significance to Southern Illinois, with special emphasis on those issues that pertain to the conservation and preservation of our native fauna and flora.
Illinois Audubon has been helping preserve Illinois flora and fauna since 1897. The mission of the Society is to promote the perpetuation and appreciation of native plants and animals and the habitats that support them. For more information, visit https://illinoisaudubon.org