Food Works 2021 (Virtual) Annual Meeting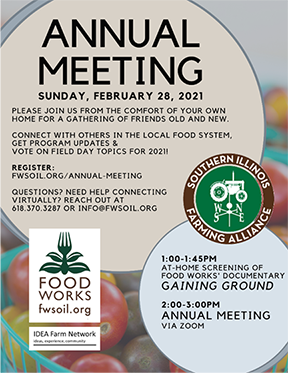 Map Unavailable
Date/Time
Date(s) - 02/28/2021
1:00 pm - 3:00 pm
Categories
2021 Annual Meeting
Sunday, February 28, 2021
1pm: At home screening of Gaining Ground
2pm: Annual Meeting
The Annual Meeting is sponsored by IDEA Farm Network and Food Works. It is an opportunity for members to catch up with each other and Food Works, and to share their needs for the coming year though voting on field day and workshop topics. Members of the Southern Illinois Farming Alliance, Food Works, and the IDEA Farm Network are encouraged to attend, and are welcome to invite guests interested in sustainable food and farming in Southern Illinois.
This year we'll be gathering virtually, via Zoom. Please register below to receive event details and Zoom link. Tune in early at 1pm to watch Gaining Ground, Food Works' 2014 documentary about the food system of Southern Illinois. https://www.fwsoil.org/annual-meeting.html
Members Make it Possible
Help support the ongoing work to grow sustainable food and farming in Southern Illinois. ​Please consider become a member or renewing your membership in 2021. Support from community members like you makes our programs possible, including the Farming Alliance, Farm Beginnings, the winter Carbondale Community Farmers Market, and SNAP & Link Match in Farmers Markets. Learn more about the benefits of membership and sign up here: https://www.fwsoil.org/annual-meeting.html
Though we cannot boast the "best farmer potluck in Southern Illinois" this year, we can still enjoy a taste of Southern Illinois together. Select the Member Box option when you become a member or renew your membership and get a box of local treats to enjoy at home for the Annual Meeting, including a Food Works t-shirt! Pick up your box curbside at the Carbondale Community Farmers Market, or contact us to make alternative arrangements at info@fwsoil.org.
The IDEA Farm Network is a farmer-led learning community that explores and implements ideas and approaches that balance farm productivity, profitability, and environmental health. The IFN farmer learning community creates a comfortable and lively space for farmers, scientists, and advocates to share diverse experiences, information and views that advance regenerative agriculture.
Food Works is a 501(c)(3) non-profit organization dedicated to creating a sustainable food economy in Southern Illinois. Through farmer training and consumer education, Food Works promotes long-term farming networks that create healthy soils, healthy food, and healthy communities in the 23 counties that make up Southern Illinois.