Art Exhibit and Reception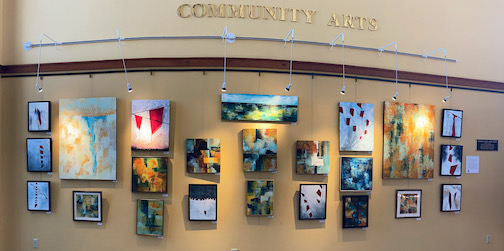 Map Unavailable
Date/Time
Date(s) - 09/13/2022 - 10/31/2022
6:00 pm - 9:00 pm
Location
Marion Cultural & Civic Center
Categories
Event Announcement
Contact: Josh Benson, Marion Cultural and Civic Center
618-997-4030
josh@marionccc.com
Tabitha Tripp
618-697-1474
tabitha.tripp.art@gmail.com
Marion Cultural and Civic Center to host "Topography: Diving Deeper" Art Exhibit September 13-October 31
From now until October 31, artwork created by Tabitha Tripp will be on display in the lobby of the Marion Cultural and Civic Center in Marion, Illinois. An opening artist reception will take place on Friday, September 19 from 6-9pm. The reception is free and open to the public.
The solo exhibit "Topography: Diving Deeper" features twenty-four pieces of artwork from the previous three years of experimentation, transition and introspection into cold wax and oil. Tripp, a lifelong resident of Southern Illinois, was a graduate of Southern Illinois University at Carbondale. She received a Bachelor of Fine Arts in Painting and now works full time from a studio at her home in Union County.
Multiple layers of cold wax and oil allow for textures, and subtle nuisances of color, to reveal what is underneath the surface from the previous studio day, which gives the impression of topography. "I think this is the most seductive medium I've ever had the pleasure of playing with," Tripp said. The body of work presented is abstract and heavily textured, which is a departure from Tripp's previous landscapes and floral paintings. "There is such freedom," says Tripp, "dare I say joy, by not conforming to the reality around me when creating art."
The artwork is available for viewing in the lobby of the Marion Cultural and Civic Center and is open Monday through Friday, from 8am-5pm. For more information, visit www.marionccc.com.
https://www.facebook.com/events/1098307027446242
Photo credit: David Gray