All-Ages drag show is July 30 at The Varsity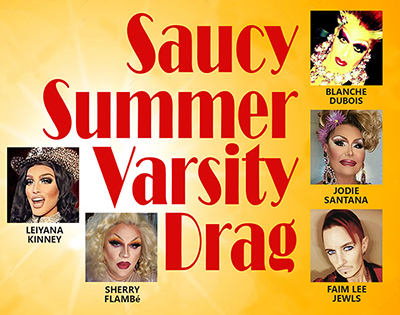 Map Unavailable
Date/Time
Date(s) - 07/30/2021
7:00 pm - 10:00 pm
Categories
The next all-ages drag show, "Saucy Summer Varsity Drag," will take place at 7 p.m. Friday, July 30. The Varsity advises that tickets are purchased in advance, as the last show sold out before the performance.
The Varsity's multi-faceted monthly drag show features comedy, dancing, live singing, lip-synching, games and stories by queens and kings. The godmother of drag, Blanche DuBois, is the evening's emcee. Joining Blanche on stage will be regularly featured queen Jodie Santana and King Faim Lee Jewls. And, for the first time at the Varsity, Sherry Flambé and Leiyana Kinney finish out the lineup of fantastic performers. Christina Garnette will be the evening's hostess.
This is an all-ages show, and The Varsity welcomes young people; however, the show can be on the risqué side, and those 17 and younger must be accompanied by a parent or guardian.
The show begins at 7 p.m. Friday, July 30. Tickets are $8 for adults or $4 for students with ID. They are available in advance at www.thevarsitycenter.eventbrite.com. Tickets are not available in advance at the venue but will be available on the night of the show, when doors and the Varsity Bar open at 6.
Come early and enjoy a special cocktail at the bar and the company of Christina and the Varsity staff. Bartender Alex Socorro will be mixing special drinks for the evening.
For more information about The Varsity, follow at www.facebook.com/varsitycenter or visit www.thevarsitycenter.org.